Share
Asobitech releases super Jetpakdx in 2020
2020 was a fantastic year for independent and retro games. So much so that it was the year that Quang Nguyen of Asobitech decided to release the Gameboy game Super JetPak DX. This project wasn't just one of passion but a strong community development. Quang even went so far as to stream his development process. I got to sit down with him and talk about the creation of retro content in a modern era, as well as the place collaborative creation has in game development. 
We spoke at length about the history of games within the context of nostalgia and what was so formative as a developer. And the importance of arcade games in the dawn of an era where the cabinet experience was beginning to become an at-home experience.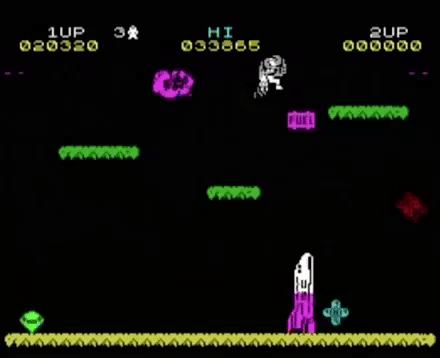 While Super Jetpak DX may have released in 2020, it wasn't Quang's first time working to make the game. He'd always had plans to at the very least remaster the original. Burn out and a career in making Gameboy games had initially kept him from doing so. It wasn't until 2020, after years of different professions and work experiences (even professional breakdancing), that he was afforded the chance to do so.
More than anything, what impressed me about the development of Super JetPak DX was the community in which it was brought up. Streaming the development of a game is a process that we see more and more as developers and fans share a dedicated and positive place on the internet.
To listen to the full interview, you can go here.
ON MAKING his first game at ten years old
Wow, so that wasn't going to be my first question, but now it is. What was your first game like? What was it about?
Quang: So I first learned to code in Spectrum Basic, and in Basic, I managed to recreate one of those little LCD three-lane racing games. The cars come toward you in set positions, and you have to move between the three lanes to dodge between the cars. Simple as that.
Oh, I had one of those plastic handheld knock offs for road trips that my mom got me.
Quang: Surprisingly good fun!
Making Super jetpakdx an Arcade classic
Quang: The original Jetpac released by Ultimate Play the Game was a ZX Spectrum game, the first one I saw as a kid. It surprised me to see a whole microcomputer capture that arcade feel. Arcade games, for me, are very fast, almost instinctive based. You know? You get in the zone and start playing them, and there's so much going on. Similar to modern bullet hell games, you kind of zone in, and you work it out. As busy as the screen can look, you're in control of it.
Yeah, building that muscle memory with every subsequent playthrough, so you feel that genuine sense of progression.
Quang: For sure.
So what was it about Jetpac that made it the game for you?
Quang: Jetpac was my first experience with videogames on a home computer. I went over to a friend's house, and they had a Spectrum and showed me Jetpac, and I just fell in love with it…
Arcade machines were so loud, vibrant, and colorful that they were beautiful, and then to see this recreation of an arcade game was amazing… It really captures your eye, whereas some of the other old Spectrum games are a little more sedate and run at a slower pace. They don't have that arcade feel that Jetpac had.
I would say that if your goal was to recreate that in any capacity, you certainly have. Super JetPak DX is all the vibrancy and the chaos that I would expect from an arcade cabinet game.
The future of asobitech
So moving forward, do you feel a drive to make more?
Quang: One-hundred percent yes. So, I did a lot of the development for Super JetPak DX live on stream. I streamed three times a week, and people would watch me and ask questions as I developed the game.
It gave me a new connection to people, and it was great to see people enjoying my work and the process of game development, and along with that, I also started enjoying the development process. So yeah, I'm rearing to make more games. Can't wait.
Discuss this article with the community!
Reddit | Discord